SH Vega
1 reviews | 1° place out of 648
100.00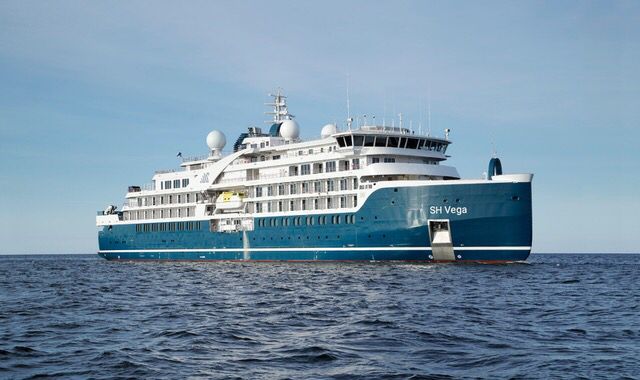 Details
Shipyard

Helsinki Shipyard

Year

2022

Length

115.00 m

Beam

23.00 m

Tons

10,600 gt

Decks

9

Cabins

76
Passengers

152

Crew

120

Crew/Pax ratio

1 : 1.27

Currency

Language

English

Flag
Description
Built in 2022, SH Vega has a length of 115 meters and a width of 23 meters, has 9 decks and accommodates up to 152 passengers and 120 crew members. The 76 cabins, including 6 suites, have all the necessary amenities. The ship is designed to travel to off-the-beaten-path destinations and remote polar regions in style and comfort; it incorporates a PC5 ice-reinforced hull combined with extra-large outriggers to make the journey as smooth as possible. SH Vega is also equipped with exhaust gas cleaning systems, advanced wastewater treatment systems and waste storage facilities necessary for operating in sensitive polar areas. In addition, it is self-sufficient for up to 40 days or 8,000 nautical miles, enabling extraordinarily engaging cruising trips.
Spacious and relaxed public spaces offer wide open and unobstructed views throughout the ship, there are large outdoor deck areas and multiple near-sea viewing stations, including a Swan's Nest platform at the bow. Comfort and elegance extend from the spacious lounge, to the 3 dining options (Swan Restaurant, Club Lounge, and Pool Bar & Grill) to the gymnasium, sauna, and Basecamp, a full-service locker room managed by the Concierge where guests prepare for their expeditions. Conference room facilities with state-of-the-art audiovisual presentation equipment support expert lectures on board, while a fully equipped photo lab with professional photographers in attendance ensures guests can create inspiring images and videos to relive their extraordinary experiences when they return home.
Giorgia Lombardo
Embarkation and disembarkation
Outstanding experience!
I liked
Outstanding staff, new ship, Wi-Fi and excellent selection of wines. Photographer and videos free after trip.
I didn't like
Still waiting for photos and videos link but hopefully it will be soon on my email. ☺️
This cruise at SH Vega was outstanding! Staff was friendly and super engaged in the well being of passengers. Very friendly! Lectures were exceptionally interesting. We even got to the ice edge! As extra!!! I'll be planning future trips with swan Hellenic ships for sure! Thank you everyone! 🙏
---
---
Ports of call: Tromso, Norway
---
Embarkation and disembarkation
Buffet restaurants quality

Speciality restaurants quality
Would you cruise this ship again?

Do you recommend this ship?
---